The tribute by Roberto Pissimiglia, EsteticaNetwork publisher, in memory of Vidal Sassoon.
---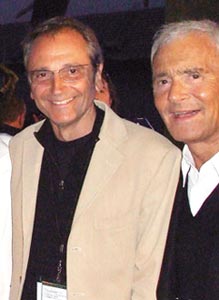 It is difficult to find the right words when so many memories flood our consciousness together with even more concepts that we would like to express...
Vidal Sassoon represented so much for the history of hairdressing.
A living legend for as long as he was with us; unforgettable now that he looks down upon us from above. An man that in some way stands as an icon for all of the latest generations of hairdressers: that is how long his charismatic career lasted.Images in black and white from the 1970s that, even photographically speaking, made history and are still extraordinary today…
A symbol of success for those who take stock of achievements. A concentrate of pure creativity that gave form and method to the art of haircutting. A true maestro who established a school where talents the calibre of Joshua Galvin, Tony Rizzo, Trevor Sorbie, Tim Hartley, and Fumio Kawashima studied their craft…
For nearly forty years, I enjoyed the privilege of experiencing all of this first hand. It started when I was still a student and went with my father to London to meet the stars of English hairdressing: beginning obviously with the already famous Vidal, whom I saw for the first time in his historic Old Bond Street salon. I remember the effervescence of the team who worked with him, the unisex salon (at the time, something unheard of for Italians), the round window, a sense of Swinging London in the air…
I also remember by father's words, "In the world, the only one who knows how to cut hair so well is our Cele Vergottini..." And I must confess that, for a while, that competitive reference to Milan-London left me with a sense of veiled resentment towards that Englishman with his big sideburns who dared contend for the throne of our Italian hero…
A few year later, the magazine for which I had become Vice Director was teeming with hairstyles signed by Vidal Sassoon or that had originated in his school; a school that in the meantime had also been established in Italy thanks to Franco Scarpa and Angelo Poli, followed a few years later by John Santilli.
Images in black and white from the 1970s that, even photographically speaking, made history and are still extraordinary today…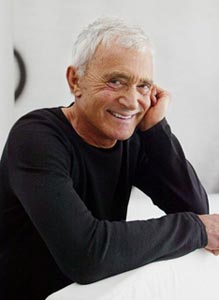 When I had the opportunity to meet Vidal again, I had matured and certainly knew more about hairstyling than I did when I was in London that first time...And what an extraordinary opportunity it was: we were on the photographic set that was to portray him for the cover of Estetica. It was the first time that it had ever happened in the then forty-year history of the magazine. But this was Vidal! And Vidal had graciously seconded my idea: one pose with him in the foreground, one pose of him between the models with their hair cuts by Cristopher Brooker, one pose with him at my side as a souvenir that he himself inspired with a wink of his eye - all of which we obviously published... Whenever I found myself leafing through or showing past issues of Estetica to someone, I lingered over the January 1985 issue. Now I will continue to do so, but with overwhelming emotion...
The 1980s were the years of Vidal's American turning point. Having settled in California, he dedicated his time to his professional products. As for his legend, he had become "without frontiers". And any self-respecting legend must receive a landmark celebration: a biography destined to become an international best-seller. The presentation took place in March 1993 at the equally famous Rizzoli book store in New York. It seems like yesterday when I think of those days visiting the photographic exhibition at the Jacob Javits Center and 57th Street where I got my autographed copy of the book from his very hands…
A few years later, I had the opportunity to return the favour: from his Beverly Hills villa, Vidal and his wife Ronnie expressed interest in my new publishing idea, Estetica Design. I immediately sent him a copy, with a lengthy dedication and a hint of emotion mixed with professional pride: it was, after all, a compliment that such interest could be expressed by
the man who had studied to be an architect of interiors and had become the greatest architect of hair
. (as he himself preferred to be defined)! The last images-memories of Vidal mark the new millennium. Whenever he spoke, whether in public, in a theatre, or in a university classroom the standing ovation was spontaneous! I vividly recall that tribute in Bologna during the historic edition of Nextlook, organised by Cosmoprof and EsteticaNetwork.
Now, in every corner of the globe, we are all on our feet to remember and celebrate the greatest hairdresser of all time.
Another thrilling memory takes me back to February 2006 in Beverly Hills. I had dinner with him and some other friends in the villa of Paula Kent Meehan; that evening, Vidal inspired us with words of profound passion and encouragement that I remember to this very day...
Like a few months later, in Barcelona, when he took the stage of the Global Salon Business Award during an unforgettable conference on his career as an entrepreneur and his secrets to success. The last time I met him in person was four years ago: on the stage of the Alternative Hair Show, which had dedicated an evening in honour of his eightieth birthday with "live" messages from many famous hairstylists who had set out on their careers with him. And for the joy of the six thousand hairdressers from all over the world who had gathered together at Royal Albert Hall.
There was an endless standing ovation…Once he returned backstage – still visibly moved - he greeted me, remembering to mention his interest in Estetica and how many issues he would yet receive…Vidal's illness left no hope. He was perfectly aware of this. We were all aware of this.
But he had always faced it with enormous courage and steadfast dignity. Last February, on Facebook, his message reached fans from all over the world:
"Life is precious and I'm enjoying every moment of it. Every moment of it."
In these days, the world of hairdressing – and others - have flooded the web with images, memories, anecdotes, biographies, dedications, and thoughts. Like the one that each of you may leave with us...You will find many of them on our portals, even more on social network fan pages; others will be published later in Estetica.

Vidal deserves all this love. Vidal was Vidal! His passion for haircutting and for his " social role of hairdressing" is all contained in the famous quote that he himself dedicated to all the women and men in the world.
A quote that we have remembered while dedicating our site to special contents upon his death:
"If you don't look, we don't look good"
To which we might add - also on your behalf - :
"Vidal you will look good and shine as our greatest star. Forever!"
Roby Pissimiglia
EsteticaNetwork publisher
Posted on 10.05.2012